---
About Electromagnetic Fields (EMF)
The radiation given off by electromagnetic fields can cause great danger to humans and people all over the world are affected by exposure daily. Rortech Electric in Bay Area helps our customers make informed decisions on how to protect their homes and businesses.
At Rortech Electric we have the tools to check for Electromagnetic Field (EMF). We can help you understand what electromagnetic fields are and give you the knowledge to help combat exposure. Our technicians will walk through your home or business and show you what areas are affected. Once we show you out report, you may be surprised to find out how much radiation is actually present in your home or working environments.
Rortech Electric is here to provide you with the knowledge and technology to help create a safe living and working space. If you not sure what you need to create a better environment for your home or working space, give your Bay Area electricians a call today!
---
The health risks due to the exposure of high electromagnetic fields has become a great concern to many people. The fields are everywhere around us – power lines and transformers, appliances, building wire flaws, and stray currents from utilities. Rotech Electric can perform EMF test to assess the levels and danger near and in your home.
These magnetic fields are usually produced by currents flowing in wiring systems. The California Department of Health Services have conducted studies showing there are flaws in building's wiring systems producing large amounts of magnetic fields. When found, these errors should be eliminated not only because they are dangerous but also in violation of electrical code.
There is an even scarier aspect of electric fields – they can be present even when there is no current flowing. When the voltage is higher, there is a stronger field but voltage can exist even when appliances are turned off. This means that even when your appliances are off EMF can be present. In a residential setting, Romex cable, or unshielded internal wiring, that are present inside walls, power cords, or alarm clocks are usual sources for electric fields. Luckily once these sources are identified, they are usually easily removed.
---
Testing for EMF
Rortech Electric has compiled a wide variety of professional consulting services to help Bay Area homeowners and businesses understand EMF and the harm it causes the human body. Our technicians have the knowledge and know-how to get your EMF remediation job done. Our technicians only use the best EMF testing equipment in the industry to find problem areas in your home or place of business.
Rortech Electric can help identify and remediate EMF fields with special electromagnetic field testing equipment. We can help find the best solutions to your problems by creating lower EMF or RF environments. Visit our EMF testing page to see how the process works or give us a call today to get on schedule!
---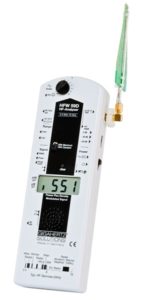 HFW59D – HF-Analyser
This HF-Analyser has a frequency range of 2.4 GHz to 10.0 GHz and measures reliably within the higher radar frequencies. It can capture the shortest radar pulses, less than 0.5 µs, with it's maximum video band width. This meter was especially designed for peak measurements of modulated signals with it's "pulse" mode.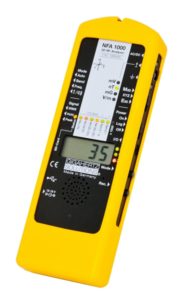 NFA1000 – 3D-LF-Analyser with Data Logger
This model is the top of the NFA meters. All unique features of the NFA series are included. The frequency range of this Analyser ranges from 5Hz to 1000 KHz. The NFA1000 comes with an integrated voice recorder to help facilitate measurement analysis. It has a switchable field-strength-proportional acoustic signal for audio analysis.
Learn more about the NFA1000 – 3D-LF-Analyser with Data Logger
---
EMF Phone Consultation
The technicians at Rortech Electric are happy to offer professional phone consultations to discuss your concerns on the EMF in or around your home or work space. We can any any questions you may have about Electromagnetic Radiation, mitigation of EMF, or address any concerns you might have.
Common EMF Questions
What can I do about the EMF in my home or work?
Are there any levels of radiation that are safe?
How can I tell where the EMF are coming from?
What is shielding and how can I use it?
---
EMF Assessment
Rortech Electric is proud to offer EMF assessments or surveys for both residential properties and commercial properties. Since every space is unique, we have learned that measurements for EMF assessments must be taken in different, strategic points in each home or building. Our technicians will then take this information and use it to map out the sources that are emitting the most EMF. This is the most essential step before creating a plan for solution. Without this map a lot of time and money would be wasted with trial and error. Once the source of the problem is found, strategies can be put into place to start reducing the EMF right at the source.
Our Electromagnetic Field surveys are usually conducted when one of the follow has happened:
Health safety concerns
Interference due to equipment
Home or business purchases
Designing for low EMF buildings
Wiring errors or stray currents
Rortech Electric has the years of experience to help remediate EMF fields in your home or business. We are happy to schedule a consultation with you. Our company wants to create a safe and healthy environment for your family or employees. Contact us to get more information on how we can help you.
---
EMF Education
People all over the world are affected by Electromagnetic Radiation. Rortech Electric wants to make it easier for home owners and businesses to make informed decisions when it comes to making homes and businesses safer. We help you purchase the correct equipment and give you a better understanding of all the terms and answer and questions you may have.
We have compiled a knowledge base full of FAQ and general terms to help simplify a scary topic as well as create safer living and working spaces.