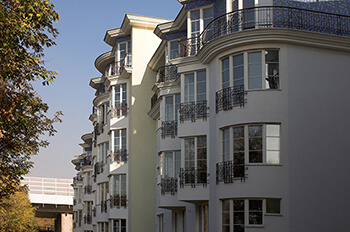 There are many benefits to hiring an experienced electrician to handle the electrical issues property managers face. It takes a great deal of understanding to help property management companies save time and money when working on the variety of electrical issues found in residential and commercial properties. The electricians at Rortech Electric have the experience necessary to help property managers feel secure with the electrical work done on their properties. We love to create a long last relationship with your company.
---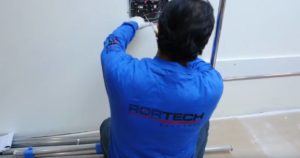 Common Jobs We Perform For Property Managers:
Troubleshoot electrical issues inside units
No power to apartment
Common area lighting replacement
Lighting repair for exits, parking lots, and landscaping
Electrical work during a remodel or renovation
Apartment security systems
---
The most common jobs we are dispatched to for property managers is to fix or replace common area lighting. It is up to the property management company to properly maintain all common areas of the rental property. This includes all exterior walkways, parking lots, courtyards, etc. Anything that all tenants have access to must be maintained by the property manager.
This is not just a courtesy – this is usually a state law. The law states that that property managers must keep common areas clean and must repair problems if they arise. Common area lighting is necessary for safety and cleanliness. Crimes are less likely to happen if an area is well lit which leads to less lawsuits.
Technicians from Rortech Electric are ready to be dispatched to your property to help fix your common area lighting. Just give us a call today!
---
Troubleshooting Property Management Electrical Issues
Our electricians can troubleshoot electrical issues inside units and outside in the common areas. We have a team of highly skilled electricians ready to fix and find your tenants electrical issues at a moments notice. To learn more about our troubleshooting techniques, please visit this page.
We treat apartment and office managers with respect and courtesy. Through our years of experience in the field, we have laid out the following eight principles to give you the best work possible. To learn more, take a look at our reviews or give us a call.
---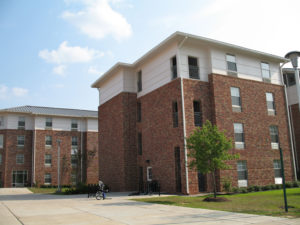 The Eight Perks of Working with Rortech Electric:
You can always speak with a real person during business hours.
We handle urgent matters very quickly.
We give you a final quote before beginning work.
Our troubleshooting estimates are accurate.
We are courteous and respectful.
We tell you when work is complete.
We look for electrical problems unrelated to the job we are working on.
Our billing is accurate and arrives on time.
We quote jobs before we start. You won't have any billing surprises once we start a job. We give you quotes before we ever begin work. This includes installation work such as installing light fixtures, power outlets, electrical panel upgrades and all other new installations. If we have to troubleshoot a problem, we will give you a firm quote within one hour.
We will provide you with up-front pricing. You don't want to be surprised by extra costs once work has started. We give you a firm, written quote before work begins. It includes installations such as lighting, power outlets, electrical panel upgrades, and more. When troubleshooting is necessary, we will give you a firm quote within an hour.
We respect your tenants. Out technicians are polite, and know what to say and what not to say. We never tell residents anything they don't need to know, and never say anything negative about building electrical systems.
You'll know when we're finished. We complete a job, clean up, then tell you and your tenant that the work is complete.
We look for other problems. While working on your electrical system, we may notice unanticipated problems. We will always inform you of these to keep your building running properly. We look for things like malfunctioning outlets and missing smoke detectors. We let you know before we rectify any of these issues.
Billing is always on time and accurate. Accurate billing is vital for the work that you do. We explain our charges clearly, and never give you any sudden billing surprises.
---
Why can't I have a handyman perform electrical jobs?
A handyman can handle many small electrical jobs, depending on skill set. If your handyman has low-level skills, small jobs like fixture replacement will be no problem. Take care that even simple electrical jobs can be dangerous if not done properly. For this reason, you should know when to hire a licensed electrician. If extensive work is required, make sure to give us a call.
To get a free estimate for your project, call your Bay Area electricians at Rortech Electric today.
Call Now
(415) 499-7704
Rortech Electric
Your San Francisco Bay Area Electrician Since 1980
Fully Bonded and Insured
Licensed Electrical Contractor, License:
500138
Tel: (415) 499-7704
8 am to 5 pm