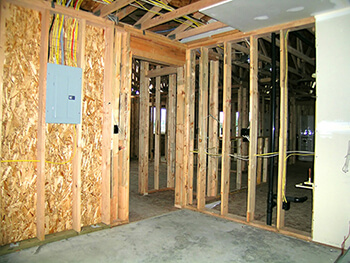 Bay Area Remodels and Renovations
About Remodels and Renovations
When completing a renovation on your building, it involves much more that just making changes to the structure. When renovating you should consider making updates to the plumbing, electrical, and interior as well.
The technicians at Rortech Electric are equipped to handle any size remodel or renovation. We have completed many remodeling projects, so we are ready to work!
Our technicians can help you with the design and layout so that everything looks clean and how you want it. Planning is key when it comes to a remodel. We will help you save time and money by having the plans ready before the project begins.
Safety concerns are also something to look at when updating your building. If you have an older home, your panel or wiring may be outdated or falling apart. When renovating your home, it is a good time to take a look at your electrical system to make sure it is up to today's standards.
You should also take a look at your demand for electrical. If you are adding new appliances when renovating, you may need a larger electrical panel.
Regardless of your renovation or new remodel project, you should give your Bay Area electricians at Rortech Electric a call today. Our technicians will be able to walk through your remodel project with you and give you expert advice on what needs to be done.
Call Now
(415) 499-7704
Rortech Electric
Your San Francisco Bay Area Electrician Since 1980
Fully Bonded and Insured
Licensed Electrical Contractor, License:
500138
Tel: (415) 499-7704
8 am to 5 pm