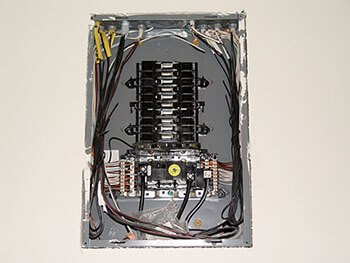 Bay Area Panel Upgrades
About Panel Upgrades
Several decades ago technology wasn't as advanced as it is today. With that being said, if you have an older home and have not had a panel upgrade recently, you may want to consider have one done. Panels installed decades ago have been proven to be inadequate and unsafe. Below you will find a list of panels that should be upgraded to today's standards:
Zinsco Electric Panels
Fuse Boxes
Pushmatic Electric Panels
Federal Pacific Electric Company Electric Panels
If you think you might have one of these panels for your home, give Rortech Electric a call today. One of our Bay Area electricians will come to your home to make sure your electrical panel is keeping your family safe.
Do I need to upgrade my electrical panel?
If you are uncertain whether or not you need to update your panel, we are providing you with some information to help you make an informed decision. If none of this makes sense and you need further clarification, please give us a call and we will be happy to help!
Basically there are two main reasons you might need to upgrade your panel.
Your panel is too small. It can not keep up with your electrical needs.
Your panel is not safe. It has a great risk of causing a fire or shock.
Our electricians are specialized in upgrade all types of panels including:
200 amp panel upgrade
100 amp panel upgrade
200 amp panel installation
100 amp panel installation
What will happen during a panel upgrade?
When Rortech Electric comes out to your house to do a panel upgrade, our certified electricians will provide you with the best electrical services in Bay Area. Included in our panel upgrade services are:
Labor and/or permit pulling service
The electrical panel
Moving the current panel
Equipment required to upgrade or install the panel
Clean up and removal of all materials
Why might I need to upgrade my panel?
There are many reason a panel upgrade might be required. Here are few reasons we've encountered:
Adding a major appliance, such as a refrigerator or air conditioner
Renovating a room
Adding an additional room
There isn't enough power currently
Your breakers are constantly tripping
Call Now
(415) 499-7704
Rortech Electric
Your San Francisco Bay Area Electrician Since 1980
Fully Bonded and Insured
Licensed Electrical Contractor, License:
500138
Tel: (415) 499-7704
8 am to 5 pm