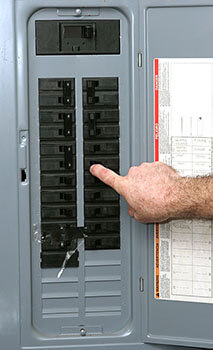 Bay Area New Electrical Circuits
About New Electrical Circuits
With the technological advancements of society, many homeowners are requiring the addition of circuits. You may think that you have enough power for your home but that's not a guarantee it will stay that way when you add more appliances. When your home requires additional power, it's not as simple as adding circuits to the electrical box. A trained electrician will know how to best handle the new electrical load needed to power your home.
Your home is probably fitted with an electrical box which holds are the electrical circuits. It's usually found on the outside of your home. The addition of one or two circuits can be fine but it is possible to exceed the maximum allowance if you're not careful.
Don't just add circuits hoping it will be enough power, give the professional at Rortech Electric a call so we can evalute your situation and recommend the best possible route.
How do I know if I need to add more circuits?
When you add a new appliance to your home you increase the demand on your electrical panel. Before your hook up a new major appliance in your home, it is best to consult with an electrician to see if you have sufficient power.
What can cause an overload?
The addition of a car charger
If you put up a big holiday light display
Hot tubs can use a lot of power in your home
Remodels or room additions can add a great need for power
Rortech Electric can help you be sure you are getting the most out of your electrical panel. Give us a call to consult with a professional electrician. We are happy to walk you through every step of the way.
If you are considering adding circuits to your home, give Rortech Electric a call. We are your go to Bay Area electricians for all your electrical needs.
Call Now
(415) 499-7704
Rortech Electric
Your San Francisco Bay Area Electrician Since 1980
Fully Bonded and Insured
Licensed Electrical Contractor, License:
500138
Tel: (415) 499-7704
8 am to 5 pm