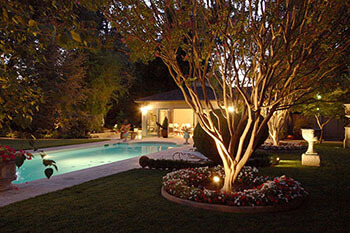 Bay Area Landscape Lighting
About Landscape Lighting
California provides perfect weather to have your yard be the focus of your home. Landscape lighting can help accentuate features of your yard while adding security and value to your home. Use outdoor lighting to highlight pathways or flowers. landscape lighting can help keep your landscape beautiful during the day or night.
The electricians at Rortech Electric can help you create an outdoor atmosphere that you have only dreamed of. Maybe you want to light up your garden, or illuminate dark areas for safety. Perhaps you have water features in your yard that you want to highlight. Whatever your need, we can light your yard, deck, and everything in between.
It doesn't have to be expensive! Low voltage lighting can help make your yard beautiful without raising your electrical bill. These lighting fixtures use little electricity by emitted a small glow that helps your yard subtly look classy.
When you're considering installing landscape lighting you can greatly benefit by hiring a professional like those at Rortech Electric. We have the ability to ensure your lights are properly installed to prevent weather related problems. Our techinicians can also hide any wiring to keep your yard looking great.
The electricians at Rortech Electric of Bay Area can help with your landscape lighting installation. We have the expertise to get you the most out of your backyard projects. We offer up-front pricing to help you save money and still have the yard of your dreams.
Call Now
(415) 499-7704
Rortech Electric
Your San Francisco Bay Area Electrician Since 1980
Fully Bonded and Insured
Licensed Electrical Contractor, License:
500138
Tel: (415) 499-7704
8 am to 5 pm