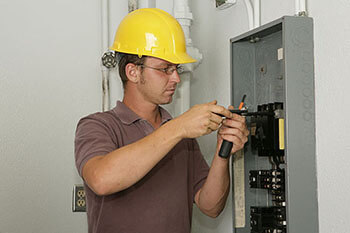 Bay Area House Rewires Replacement
About House Rewires
According to the US Fire Adminstration, fire departments in the United States respond to approximately 25,900 electrical fires in homes every year. Unfortunately these fires cause about 280 deaths and 1,125 injuries a year. It is estimated that they also cause about $1.1 billion in property damages.
About 39% of these electrical fires are caused by outlets or receptacles, wiring inside the house, or other wiring. This is why it's so important to make sure that your home is properly wired. These numbers seem scary but it can be easy to prevent. Your home's wiring may need updating or repaired. This can sometimes be a big expense but when it's alternative is a complete loss, the expense might be worth taking.
Homes built before 1950 frequently need rewiring. They often have dangerous cloth insulated wiring that breaks down and falls off, leaving exposed wires. Bare wires can cause sparks, fire, and electrical shock. The older your wiring, the more likely it should be replaced.
Many older homes also need electrical panel upgrades. These boxes house all of your fuses or breakers. It routes electricity from your utility company to all of the circuits in your home. We use much more electricity today than we did decades ago, so your old breaker boxes may not be able to safely handle your current load. Consequently, your breakers may flip and fuses may blow more often.
Older electrical panels also hide unseen dangers. Many fail to fully shut off power during an overload or power leak. This can lead to sparks, fire, and electrical shock.
There can be some warning signs when your electrical system is experiencing failure.
Fuses that blown more frequently or tripped breakers that occur more often
Electrical panels that are over-fused
Lights dimming or flickering
Switch plates, cords, or plugs that are hot to touch
Frequently burned out light bulbs
Odd sounds such as sizzling or buzzing
Burning smells
Sparks when plugging something into an outlet
Outlets that are loose
Insulation that is cracked or broken
Shocks when plugging in or touching a cord
Our Bay Area electricians at Rortech Electric can give you any information you made need about your home rewiring project.
Call Now
(415) 499-7704
Rortech Electric
Your San Francisco Bay Area Electrician Since 1980
Fully Bonded and Insured
Licensed Electrical Contractor, License:
500138
Tel: (415) 499-7704
8 am to 5 pm