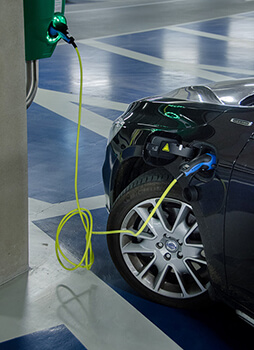 If you are thinking about purchasing an electric vehicle, the time to buy is now. The US government, along with many state government initiatives, offers various rebates, tax breaks, and other incentives to motivate you to go electric. Many utility companies offer cheaper rates to electric vehicle owners who charge during non-peak hours.
Although we have all grown familiar with hybrid vehicles, the installation of an EV charger may be a foreign concept. A hybrid vehicle recharges its electrical battery systems through its internal engine, brakes, and other components. These vehicles are never plugged in, so no dedicated charger is required.
However, the EVs of 2010 and 2011 (PEVs) need to be plugged in. PEVs have a charging cord, like a laptop or cell phone. Most of these are simple "Level 1" charging cords that can be plugged into a standard 120-volt outlet.
There are a few things to consider before choosing a car charger outlet.
It should have its own dedicated circuit.
It should be on a GFI outlet, so that power shuts off if there is an electrical problem.
During installation, your electrician will make sure your electrical panel has the capacity to charge your EV. They can also tell you about current rebates and incentives for EV drivers. If your panel can handle a charger, the addition of a charger circuit is simple. Your panel may need to be upgraded before it can accommodate such a circuit.
Level 1 chargers work well, but they are slow. A Nissan Leaf takes 20 hours to charge from empty to full. This works well for those who drive only short distances and charge every night, but many drivers need to charge faster. A level 2 charger can fully charge the same Nissan Leaf in only 8 hours. Level 2 chargers are contained in their own 18×18" housing. Like a gas pump, a charging hose hangs at the side, ready to charge your vehicle.
Only experienced technicians should install EV chargers. Level 2 chargers use 240 volts, not the standard 120, so a new circuit will have to be installed. If your breaker panel can handle the extra load, your electrician will then help you decide where to put the new charger. If your panel is inadequate, they will give you a bid for costs and time for a new panel upgrade.
If you need a panel upgrade, you might want to consider a Level 2 charger, even if you only planned for Level 1. This is the perfect time to upgrade to Level 2's faster charging times, since a new circuit is being installed anyway.
The federal government offers a tax rebate of up to one-third of the installation cost. Many states will add additional rebates, on a first-come first-served basis. This makes an EV charger a smart and economical investment.
Many utility companies further incentivize EV use by offering electricity at lower rates for nighttime charging. They will set up a meter on your charger circuit to track your electricity usage accurately.
When you buy an EV, you reduce dependence on gasoline, save money, and help the environment. Furthermore, you invest in an industry that creates new green jobs. Take advantage of the rebates and incentives associated with this new industry, because they won't be around forever.
Give your Bay Area electrician, Rortech Electric, a call today for your EV charger installation.
Call Now
(415) 499-7704
Rortech Electric
Your San Francisco Bay Area Electrician Since 1980
Fully Bonded and Insured
Licensed Electrical Contractor, License:
500138
Tel: (415) 499-7704
8 am to 5 pm